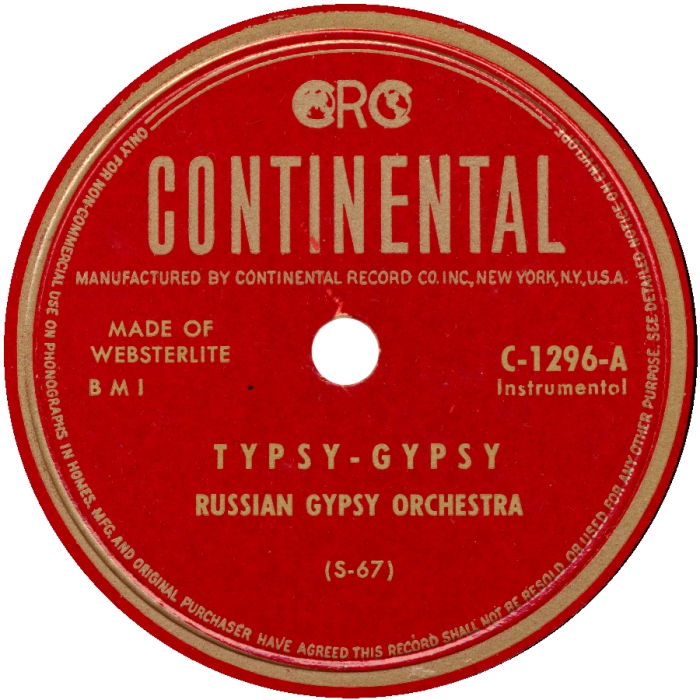 Continental Record Co. Inc. was founded by Don Gabor in 1942 in New York.

Donald Gabor was born on November 20th, 1912 in Hungary. He had studied at the Budapest Conservatory to become a radio and mechanical engineer. He came to the United States in 1938 just before World War II broke out. He began as a shipping clerk for RCA-Victor at $12 a week, but within two years he became head of Victor's foreign records department, producing song discs in 14 languages.

He may have founded Continental Records Inc. when he was still employed at RCA's, but company became really active from 1942 when he recorded together with conductor László Halász Hungarian composer Béla Bartók in his home in New York, the maestro playing his own compositions at the piano.

Gabor ensured himself of a high turnover by issuing recordings aimed not only for Hungarians but Poles, Czechs, Slovenians, and Russian released on the White Eagle, Czardas and Continental labels. He also created many other labels: Masterseal, Plymouth, Masque, Merit, and Etude, and later Palace, Pontiac, Paris, Webster, and Buckingham. Each and every name bore a hidden persuasion to which a specific buyer could connect.

With arrival of LP era, Gabor founded Remington Records Inc., in 1950 producing both 78 RPM and 33 RPM records.

All his efforts made Don Gabor an important figure in the record business, starting in a small office on Broadway, and later on 263 West 54th St. in forties. In the early fifties the office's address was a Suite on Fifth Avenue (first at No. 500 and later at No. 551).

In the beginning of the sixties Gabor revived Continental Record Co. Inc. for a short time. The office was located at 630, 9th Avenue.

Don Gabor died on his 68th birthday of a heart attack.