on other languages Русский

The Jubilee of «Aprelevka»


An unusual anniversary will be celebrated in December 2010. Exactly 100 years ago a small plant in Aprelevka issued the very first gramophone record. During Soviet period of time it became the USSR largest records production plant. Today, gramophone records in Aprelevka can be seen only in a museum that exposition tells about the giant of Soviet era audio business production, whose products were well known at home and abroad. (Due to increasing interest in vinyl records among music lovers, the operations were partially resumed in 2005 -YB).

Everything changes... New times, new owners. Now they reproduce tapes, bottle up sunflower oil, pack up cereals, and print paper labels here. But not everyone knows the interesting and dramatic story about founders of the factory Bogdan and Ivan Moll who were of German origin. If in the former time they passed over in silence about the foreigners that had founded the national music industry, today it is time to pay tribute to their hard work on the Russian land.

In early October 1910, the Construction Department of Government of the Moscow Province received a petition from the Prussian citizen Gottlieb Heinrich Carl Moll (in Russia - Bogdan Vasilyevich Moll).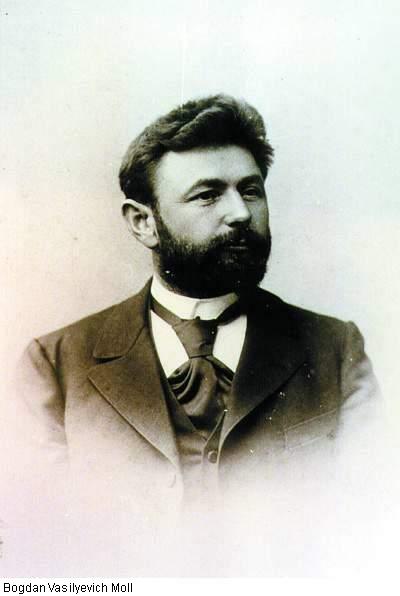 He requested permission to build "a factory for manufacturing gramophone records with the number of workers from 15 to 20 people on his own land, located in the Aprelevka< estate of Moscow - Bryansk railroad, Vereysk County of Moscow Province". Bogdan Vasilyevich was not a beginner in industrial production "start ups". Since 1885 he produced enameled metal dishware and chemical products. He owned several businesses in Russia and Germany, among them quite a large plant "Moll & Rohwer" in Holstein. Yet, the Prussian citizen had chosen Russia, and the family settled in a small village in the Kaluga Province. When Bogdan's son Ivan graduated from the Moscow University with major in Chemistry and Physics, his father decided to buy him an estate in Aprelevka, so he would not "just went shooting".
The idea of setting up a gramophone records factory did not come at random: it was a new business on the rise that promised solid incomes. The young educated man was presented with a great opportunity to try on practice his knowledge and skills acquired in the University. The land parcel cost 30,000 rubles. They did not make a mistake in choosing the site: the beautiful nature, many villas, close to the railroad, and just 50 miles from Moscow where concentrated the largest music and artistic resources of Russia.
With help of skillful and thoughtful management, the factory built in such place, was simply "doomed" for success! The information about upcoming construction got known already in September (this month for a long time mistakenly considered as factory opening date) from the publication in the "Gramofonny Mir" (The Gramophone World) magazine, that noticed: "There is no doubts, that the new enterprise will have a great future, for there is a long lasting pressing need in such a factory in Russia". Quite so, Aprelevka was destined to play special, or more precisely, the primary role in the history of Russia's as well as Soviet recording industry.
Even before beginning of construction, farsighted Bogdan Vasilyevich negotiated with Berlin company Dacapo Record acquisition of matrices with Russian performers, so by the time of factory opening it would already have its "own" repertoire. Following was the deal: for 400 matrices Moll-Senior paid 15,000 Deutsche marks. In November right by the time of equipment installation, two recording specialists - August Kybarth and Albert Vogt had arrived in Aprelevka from Germany. Prior to their appearance in Russia, they worked in Berlin Company "Nigrolith", where learned in details the mixture preparing and records pressing technology. The work became even more active after their arrival. Everything carefully examined and tested: checked every bolt and nut, tightened shaft belts, hammered last nails. As soon as in December, the inspector examined the factory and reported that "... the construction of buildings is finished, and they are (the buildings --YB) in visible parts and in overall design are quite firm".
In the ninth of December they started the engine, and like a victory sign the smoke raised from the pipe; the factory was ready. The grand opening day is finally arrived. After prayer and consecration the first 400-gram shellac record came out from the press. This happened on December 15, 1910. The factory was one-store robust building built of red bricks with a single high thin pipe and large windows. It also was decorated by platbands made of white stone.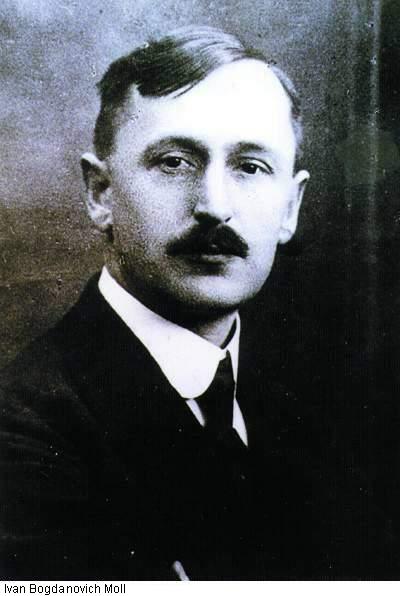 The factory was equipped by the latest technology of that time. Whistling steam was releasing from valves, power station motor was humming while bringing the movement to all machines and mechanisms. A technician was again and again adding fresh oil to the machine while carefully checking the needles of indicators. Just behind the wall of the engine room, there located the mixture-preparing unit that was a special pride of owners, because there weren't anything like this in all central Russia before. In this machine shellac-resin delivered from Syria were mixing up with soot from Hanover, other components, and finally transformed by the process into a composition that was used for records printing.
The printing was performed in a nearby shop, where even for a minute did not stop the knocking noise of matrices to iron plates, mixed up with thick hisses of opening presses. Among this cacophony of sounds, workers by developed to automatism movements were taking out the finished records and stocking them onto piles.
The records pressing was difficult task: during 12 hours a press operator would hardly produce 100 ... 150 discs. In galvanizing department there were large vats with solutions where by the action of electricity wax discs were turning into copper matrixes that were used for printing. A special room, kind of QA department, was dedicated for listening-proof of just emerged from presses records. It was not that much an interesting procedure, however there was impression of miracle emerging from the formless mass mixed up just in two steps away from here. Numerous factory visitors agreed that after visiting those workshops, "it was impossible not to fell in love with record, as one of the greatest achievements of human mind." The new factory received high-sounding name "Metropol-Record", Ivan Bogdanovich Moll became CEO, August Kybarth became the commercial director.
At the beginning, the factory business was exclusively mixture-preparing and records printing from matrixes of other companies, including those that were purchased from Dacapo Record. The young company emphasized on quality of products, hoping to produce low-noise, sturdy, and relatively inexpensive records. The new products appeared on the Moscow gramophone market by the end of January 1911 under "overseas" Luxophone-Record label. The owners of company hoped that traders would better accept a foreign label. They did not rush to show their game, especially as the repertoire was not enough diverse. Moreover, some Bogdan Moll's fears came true: despite the excellent quality of mixture, the records sound quality was not that high.
In late February of 1911 between partners, namely, Kybarth and Vogt broke out harsh quarrel, resulted in returning the later one back to Berlin. The ideological and financial inspirer - Mr. Moll-Senior, assumed his role. Sudden Vogt retiring, whom among other duties was also responsible for the sales had complicated the situation since he were unable to find a large wholesale buyer.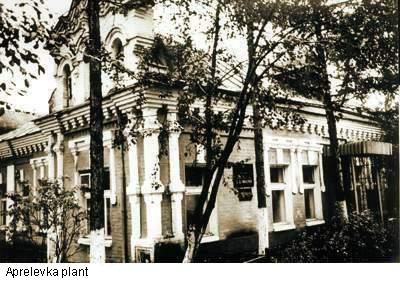 At the beginning they had to trade for cash with small businesses. It was not easy task to become recognized in the market. The factory was far from to be the first in Russia; similar enterprises already worked in Riga, Warsaw, St.-Petersburg, and Moscow itself. Competing with rivals could only be possible by starting recording their own discs. For this purpose they hired an experienced technician from Berlin. Even the very first discs recorded by "Metropol-Record" on its own were very successful in technical aspect; they brought attention of critics and traders.
"Grammofonaja Zyzn" (The Gramophone Life) magazine wrote: "...the reproduction is distinguishable by sound clarity, richness, and prominence of performance". Inviting of artists to the mouthpiece cost money, but the company after assessing its financial ability pledged to record no less than 40 sides per month. Since the April's beginning, the work of company with performers continued extremely energetically and systematically. All necessary equipment was installed in Moscow office located in Sytov's house on the Myasnitskaya Street in Bankovsky Pereulok. At the beginning, the repertoire was intended for the general public, that is why it was dominated by folk and popular songs. The goods had to be advertised, so ads began to appear in various publications. Skillful tradesmen, whom "Metropol-Record" was able to entice over from other companies, went into different sites of Russia.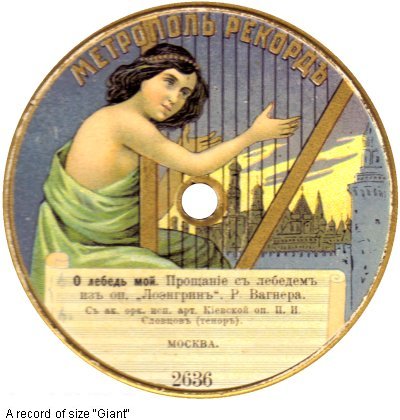 Thanks to such human resource policy, Moll and Kybarth quickly formed a strong team. P.M.Levin became company's chief salesman. He was distinguishable by energy, persistence and the talent of finding profitable offer for both parties in negotiations with customers. During his business trips to the provinces of central Russia, the office received day-by-day one order after another. Not less efficiently worked N.Troitsky, who had received an excellent school during former employment in Isserlin Brothers company. Y.I.Berkwitz who used to work for Grimm Brothers joined the team a little bit later. The alliance took shape. The "Metropol-Record" factory founded its own trading house "Moll, Kybarth and Ko.". Soon, the company undertook yet another step in order to strengthen its positions on the gramophone market. In July 1911 they officially announced about merge with the German company Dacapo Record - the same label that sold to Bogdan Moll their matrix with Russian repertoire during construction of the Aprelevka factory.
Both merging parties had their own reasons. Dacapo Record hoped substantially save on high custom duties charged for importing their records into Russia. They planned to print records in Aprelevka and ship them to customers from Moscow warehouse. "Metropol-Record" wanted to secure support from well-known company, get access to new technologies and foreign markets. Speaking in modern language, they planned a joint venture enterprise. The treaty was signed with initial capital of 150 thousand rubles. Many competitors were good and scared: if in the past this factory somehow remained on the sidelines, kind of stood aside - and suddenly such a metamorphosis had happened just in a year! Sale agents from different companies were complaining to each other that Aprelevka got no peace with them in the province! Indeed, the business was good and the factory was selling about 50,000 records monthly for average price of 50 kopecks per item. Even with such a low cost the financial account showed growth of income. Moll-Senior who was constantly supervising the business of the enterprise, had no longer to invest money in it, but on the contrary began receiving profit dividends. Being quite satisfied by the course of events, he made a decision to retire from the business and give the absolute freedom of actions to his son Ivan and August Kybarth.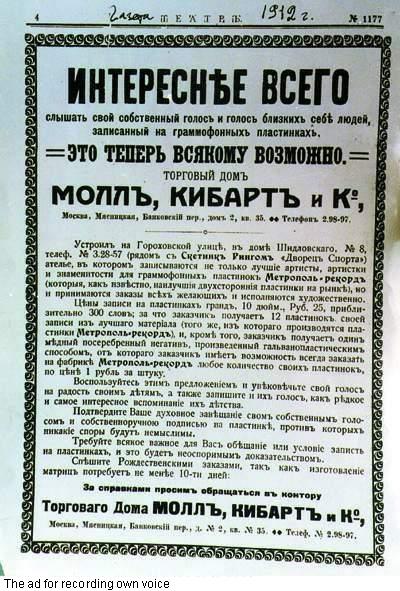 The young owners did not let the side down. With aid of customers' surveys, they revealed the names of the most popular performers, and compiled the special issue only with them. The entire print was sold out in a few days just to Moscow, so the province had not seen even a single record! In order to meet the growing demand, the factory urgently began reprinting. These records did amaze the gramophone lovers by diversity and thoroughness of featured titles. There was everything: from serious opera arias and overtures of classical works to gypsy romances and comic stories, from Russian folk choruses to solo performance on a xylophone. For the first time the company's own symphony, brass and string orchestras had participated in recordings. The musicians were "extremely well accommodated to the conditions of studio work" and the records came out technically superb.
In February 1912 the rumors began to circulate in Moscow that "Metropol-Record" was about to transform into joint-stock company with shareholders of prominent local capitalists. They did not come out from nothing. The firm "Moll, Kybarth and Co." was preparing to expand its business. In addition to well-equipped factory in Aprelevka the company decided to setup a branch in Moscow, "for more successful carrying out of recordings and galvanoplastic processing."
In the Shidlovsky House that located on the Gorokhovskaya Street in Moscow downtown they rented a large office and began its reconstruction. In a spacious room with good acoustics they set up the recording studio, in the next room they mounted galvanoplastics shop - the two crucial phases of production were joined in one place. It eliminated any risk of damage or breakage of recorded waxes that did happen during their transporting to Aprelevka. It also helped to improve interaction with artists and musicians because many of them lived in Moscow. In fact, in Moscow had appeared yet another well-equipped factory. The opening celebration of the branch took place in August. The new shop quickly adopted new technologies. Two-sided 30cm (12") "giant" format records were offered to the market soon. They quickly acknowledged this event because this format was produced mostly by the joint-stock company "Gramophone" before. With these "giants" designed for recording large orchestral and symphonic compositions they introduced the new "High-Art" label depicting a pretty girl with a harp in front of the Moscow Kremlin.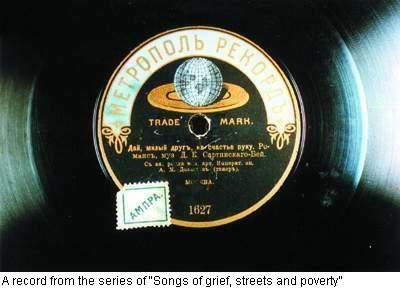 The harp on the "Metropol-Record" labels did not appear by the chance - company's sound engineers were among the first ones who managed to reproduce the "voice" of this extremely tough for mechanical recording instrument. The records hit the spot; their low cost also helped to achieve success by making them competitive.
In the studio on Gorokhovskaya Street they not only recorded the best artists and celebrities, they also accepted orders from everyone who wished to. For a relatively small fee customers received 12 records and silver-plated negatives with their own recordings made of the "best stuff". The owners of such cliches always had possibility to order any numbers of their records on the factory for the price of one ruble per record. It turned out that there were many people that wanted to do it, and though the income from these records was small in the overall budget, yet the business proved to be profitable.
The very important index of any company success was the number of "hits of the season" i.e. the number of records that had roaring demand. Later they accepted German word "schlager" for it. Obviously, the "Metropol-Record" succeeded here too. Among the philistines, big-time success had series "Songs of grief, streets and poverty". But all conceivable records were broken by the hit "Marusya poisoned herself" performed by tenor Sadovnikov. Sensation caused many other numbers too: "Frozen seamstress", "Fireman song", "Little garden", "Uchar-Kupietz", "Moscow Fire", "Give darling me your hand for luck" and other "masterpieces".
But there were quite different kinds of godsends. For big money company bought exclusive rights for issuing on its own records lots of interesting compositions from well-known composer Garteveld who was the promoter of Siberian servitudes' folklore. Decent place in catalogs were given to the classic records of Garteveld Wagner, Gounod, Bizet, Verdi, Zuppe and other composers.
Firm "Moll, Kybarth and Co." made not very successful debut at the Nizhny Novgorod Trade Fair in 1911. However, in the next season they had much better experience. Beforehand they equipped fair storehouse and listening rooms, rented better apartments, accumulated huge stocks of records. Just in the first half of the Fair they sold several times more records than during entire last year event. The communications with various "associations" and "societies" as well as inquiries of dealers from different corners of Russia helped "Metropol-Record" to better define its repertory strategy. For example, they did not make records in Tatar language, but it turned out that the demand for them was quite large. They quickly learned their lesson and immediately after returning from Nizhny began recording in various ethnic languages of Russia.
The key contribution to the repertoire development was made by Y.I.Berkwitz who possessed fine musical taste and very well knew customer's requirements. By his initiative they recorded such famous artists as Bragin, Monakhov, Zaporozhets, Pekarskaya, Kamionsky. Berkwitz concluded contracts with leading choirs, instrumentalists, and imitating artists and at the same time he was constantly searching for new ones, original ones, and bold-spirited ones. August Kybarth continuously managed the technical side of recording process.
Innovation became a style of "Metropol-Record" business: the factory first in Russia decided to use gramophone records as teaching aids. Word by word, page by page, they recorded the most popular schools' textbooks of French, English and German languages. Technicians did their best in order to make sound of voices clear and expressive. The talking tutorials were issued in sets of 20 records. For learning convenience Bogdan Moll invented "The device for smooth placing of sound boxes on the disks of talking machines". Today, this device is called microlift that all modern high-end record players are equipped with. The application for "privilege" (as they previously called "patent") for this novelty was submitted in December 28, 1912. "Metropol-Record" placed a number of orders for special teaching gramophones in England, where many companies showed a keen interest to the ideas of russified Germans.
In the end of 1912 Aprelevka worked under big pressure fulfilling numerous orders. The plant was already equipped with 35 presses, the number of workers reached up to one hundred. During the year factory printed more than 200,000 records and all of them found their buyer. Despite 1913 gramophone business crisis, firm "Moll, Kybarth and Co." stepped into third year of its existence with great expectations. The head office of "Metropol-Record" had been transferred from Moscow to Aprelevka. Hereby, the company owners wanted to achieve more rapid and precise fulfilling of the orders. Their own experience as well the experience of other companies showed that this goal is easier achievable when main office is located right at the factory.
The branch housing recording studio and galvanizing shop still continued to work in Moscow. Despite quitting of Berkvits, whom was enticed by a new Kiev company "Extraphone", and moving of Ivan Moll to the Kaluga Province, the factory continued to work with no lower intensity. The office was headed by K.Lercher, who was the former manager of Moll's family farm; he knew very well the situation and enjoyed the high confidence from his bosses.
The difficult time did come: tough competition beat prices down and sometimes instead of money from dealer they received "congratulations" from lawyers. But even in this situation the firm remained true to its commitments and continued work on expanding its repertoire. The reputation of "Moll, Kybarth and Co." firm kept growing. The company during relatively short period of time transformed from small and modest enterprise into solid form that was ready to compete with "the pillars" gramophone world.
Whenever a "cloud" appeared on the Aprelevka's horizon, Moll-Senior intervened into the business. His advises had always played positive role for he had established the well-deserved reputation of excellent and smart businessman in large commercial circles. So, in late 1913 Bogdan Vasilyevich Moll returned into "Metropol-Record" business again for a number of serious reasons. Firstly, the company became member of "Iselin Brothers" gramophone syndicate; secondly, the Aprelevka factory was in preparing for expansion. These circumstances multiplied by the alarming status of gramophone market demanded presence of the man, who invested into the business huge money, a lot of personal energy, and knowledge.
Becoming "Metropol-Record" member of the syndicate largely tied the company's hands; it was in danger of loosing its own "face" by abandoning its label, which had been established in the market with so much efforts. The Aprelevka's office was loosing all initiatives and rights to make its own decisions, because now all orders must go through the main office in Wilno.
At this tricky moment the company still decided to expand its business. In May of 1914 the Moscow Province Government received a petition for building extensions to the old factory. The petition was granted and the works began instantly. What in petition modestly called "extensions" in reality turned out to be two chambers equal by the area to the existing factory. By December the works were completed, but the joy of the opening celebration had never took place - the First World War broke out. Many German citizens were sent away to Vologda, as a result there gathered a gramophone circle: B.Moll, A.Kybarth, O.Bleshe, J.Zimmerman, the Grimm brothers, and others. They used to meet in the restaurant "Golden Anchor", read letters and newspapers, shared their experiences and waited for fast ending of War, hoping to return to their former businesses. But everything turned out not to be that simple as they anticipated...
The complications on Russian-German front combined with boycotts of German businesses resulted in unfortunate consequences for "Metropol-Record" owners - the factory was expropriated and the ownership was transferred to the "Russian Joint-Stock Gramophone Company" (RAOG), the main plant of which was burned down in St.-Petersburg. All survived matrixes from the largest Russian company "Syrena Record" were transferred from occupied by German troops Warsaw into Aprelevka. The firm had all the chances to become a leader of Russian music business, but October 1917 events finished the free-market history of this label as well as all other labels though. The global nationalization touched all private entrepreneurs; all attempts to establish relationships with new authorities, get concession and continue records production had failed. Moll family had nothing else to do but leave the Soviet Russia.
The national-wide newspaper "Izvestia" published in 1926 an obituary of the founder of Aprelevka factory Bogdan Moll. That was all that Soviet authorities made for the hard-working and talented Germans. During years of large-scale socialism development Aprelevka plant became the largest enterprise in the Soviet Union. However, during "Perestrojka", when enterprise was turned back into joint-stock company, no one ever recalled the Germans that founded the factory. They did not offer them any, even symbolic share. Into account was not taken even the fact, that the son of the first director of the factory physicist Georg Moll, who now lives in Germany, had always maintained good relationships with the plant's management, he was proud of factory's successes and upset by its failures...
The mayor of Moscow Yuri Luzhkov recently remembered Molls family. After reassessment of their contribution into development of Russian industry he offered them cooperation. But before taking any further steps, Georg Moll will certainly remember his mother - an ordinary schoolteacher from the city of Kazan, who taught him not only speak Russian, but also love Russia. He will recall his farm in the Kaluga region, factory in Aprelevka, nationalization, war, years spent in Soviet camps, unjust "turning back into joint-stock company", and probably will think twice...
Author thanks Georg Moll for the contributions.
Originally published in «Audio Producer», Nr.8, August 2000.
English translation by Yuri Bernikov.
---