on other languages Ðóññêèé

100 years of Russian «Columbia»


The present day American businessmen are not in a hurry to invest into Russian economy. Everything was different at the beginning of Century. The historical documents about how "The Columbia Phonograph Co." appeared on the vast Russian market are vividly proving it.

Americans were among the first who began selling the "talking machines" on the shores of Neva River, their shop was always full of customers, and the growing revenue had inspired high expectations of future trends. The Chief representative in Russia, Mr. Shpan, kept contemplating about expansion of the business, working in his splendid office located on the Kazan Square, and an opportunity had came along…

On Christmas of 1901 there was a vast shortage of gramophones in St.Petersburg and other Russian cities that were a fancy novelty at that time. The company, that used to manufacture just phonographs and cylinders for them, had decided to switch to gramophones. The enterprising Yanks, wishing to utilize available in stock parts, had designed so imperfect apparatus that after a month of operation it rendered totally useless. But the biggest flaw was a gear noise that stifled a music during playback. These "gramophones", on top of being late for Christmas, failed many businessmen. There were massive returns resulted in a merchant's court case initiated by Columbia. One ofexperts laying before the court on this sensational trial, asserted that "the devices are so bad, that even tavern-keepers, who are known as a very unpretentious people, had criticized them."

Such "advertisement" could ruin the whole business. After admitting the losses, the company rushed to shape up their apparatuses. Soon, they delivered into Russia highest quality products, and ever since they were constantly focused on upholding the honor of their brand. A broad advertisement of improved noiseless gramophone with fiber wheels suddenly gave an unexpected result – … a new legal process had begun. At this time the action was brought against the company itself. At that time everything overseas was already subject to patenting - not just inventions, but their names as well. The "Gramophone" word was in possession of the existing company with the same name, that is why "Columbia" had to invent a brand new original name for their products. In such a way "Graphophone" came into the world.

In February of 1903 the representative delegation consisting of the company's head Mr. Edward Easton, directors of Berlin and London subsidiaries Mr. Bradt and Mr. Dorian, and the recording engineer Frank L. Capps had arrived into St.Petersburg for exploration of Russian market. They made the long promised recordings of the voices of Russian singers and orchestras. Columbia officials visited a store of their major competitor in Russia – the "Gramophone" society, and were stunned by grand-scale of the business. They lavished praise to the branch' manager Ippolit Pavlovich Rapphof.

Then delegation headed to Moscow in order to get acquainted with the gramophone market. The eminent guests returned home in a splendid mood. Soon after, the first 188 wax discs with Russian repertoire were shipped overseas for processing. The first Columbia records were printed in USA. The main company's factory was located in Bridgeport, Connecticut. Here they processed wax originals that were coming from Berlin, Paris, London, and now Petersburg branches. Everything worked with true American efficiency.

By the summer, the first Russian recordings appeared in stores. However, music-lovers were disappointed. The quality of records were quite poor, and also the company had chosen an incorrect repertoire – they followed performer's tastes while ignoring the market realities. As a result – total failure. It was not hard to point fingers – in January K. Shpan was fired. On his position was assigned one of Berlin branch directors Aaron B. Cromelin. The new director was a man of tough character. "The Gramophone and Phonograph" magazine wrote in 1904: "It is quite possible that Columbia won't succeed in Russia. The cause of this can be found in the fact that company accepts only cash. This is extremely inconvenient for distributors."

The next recording session with famous artists, like I.Ershov, A.Davydov, A.Vyaltseva, Medea Mei-Figner was also not quite technically successful, but realization came only after paying a huge fees to the artists. A.B.Cromelin was fulminating! It all ended by his recalling from Russia.

On the CEO position was assigned Charles Hopkins, a very energetic and experienced person in gramophone business. Many music lovers expressed a hope that Columbia will pretty soon raise up to the mark and will be able to continue competing with the "Gramophone". And in fact, Mr. Hopkins soon offered to Russian customers a new kind of Graphophone. The device was of the latest design: completely noiseless mechanism with a set of very strong springs allowed to play about fifteen 10" records from a single winding. The novelty was pretty expensive – 150 Rubles, but nevertheless the demand was high. Unlike graphophones, the company records were relatively inexpensive: small discs were priced 75 Kopecks, and "Grands" one and a half Roubles. Originally, all of them were single-sided.

In spite of previous failures, Mr. Hopkins had convinced the New York headquarter officials to perform yet another recording session that took place at the end of 1904 in Moscow and St.Petersburg. They invited to the studio very popular metropolitan artists: Mr. Bogdanovich, Mr. Seversky, Mr. Max, and others, but Russian Columbia was cursed with an ill fate, and this attempt did not succeed as well.

They got earnestly considered in America, and decided to rely on Russian staff. Their choice fell on Alexander Markovich Trivas - a well-known man in both: artist and business circles of Saint Petersburg. He began his musical career in "Rebikoff and Co. Ltd." that even competed with Americans during some period of time.

Soon after his inauguration the company presented to the market two sided concert records. The price of the novelty was set at two and half Rubles. Emphasizing the product benefits, "The Light and Sound" magazine wrote: "just one record can accommodate an uncut full-length musical piece that is quite important". This step became a serious challenge to their competition battle with the "Gramophone", whose records recorded just on one side were priced at only 50 Kopeks less. The competition on the market got sharper – the music lovers got choices.

In July 1906 a new recording began in the St.Petersburg studio. From America arrived engineer Johnson in order to carry it out. He brought an entire set of special membranes, appropriated to the individual characteristics of voices. Their usage gave an astonishing result during the recording session performed earlier himself in Italy. Along with the technical innovations, the repertoire policy was also changed. Based on considerations of the fact that gramophones in Russia were widespread among the middle class, the company put emphasis toward choruses and folk music. The events of 1905 had also affected the choice of genres: on the records appeared radical and glorifying freedom songs, camouflaged under well-known classical compositions.

This time they had a good luck with vocal recordings. Trivas selected fresh and beautiful voices while ignoring celebrities with their artistic statuses of and their rates of salary alltogether. The company appealed to the customers: "Those that shine on a stage sometimes get dull on a record". But whom they invited into the studio? Following, are just a few names: Russian Opera actress Sklyarova, concert singer Taubiy, tenors Bolshakov and Tsvetkov, baritone Vavich, bass singer Shvets – all future stars! This recording session was a turning point in the chain of previous bad luck events.

1906 became the year of great events for "Columbia". In August, the company opened a record pressing plant in London, that was assigned to serve European branches including Russia. The capacity of the new factory was 100 thousand records per day. Now the orders could be completed much faster compared to the plant in Bridgeport which was located in other hemisphere. This gave "Columbia" a new advantage in its' competition for the Russian market with the joint-stock company "Gramophone". Just as it was expected, launch of a large factory increased sales in Russia. In order to expand St.Petersburg storage facility the company rented a large building in Aptekarsky alley.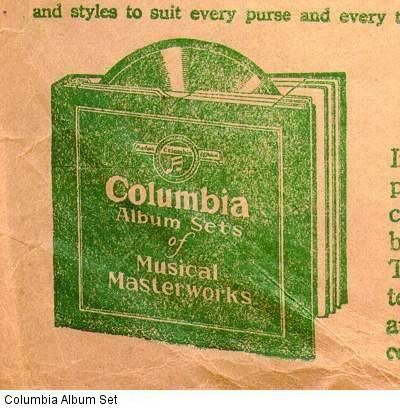 For retail selling in the most prestigious area of Nevsky (the central avenue in St.Petersburg -translator comment) they also rented the former "Yeliseev Brothers" shop that was located between Morskaya street and Moyka river. Various conveniences were offered to public in the newly renovated luxurious facilities of new store. Graphophones of different models and prices stood out in the windows. Customers could browse catalogues, listen to records, and get opinions. The company was carring on negotiations for new recordings and signing contracts with performers.
Curiously, that "Columbia" used to sign very unusual contracts with the artists (see the example). After going through formalities, a performer made a recording of text of the contract on a phonograph. A mandatory appendix to this "sound agreement" was the paper contract signed up by artist.
While performing a stormy activity, Trivas did not forget to immortalize himself in "Columbia" discography. "Misusing the official position" he recorded the "Gramophone Waltz" for piano composed by himself and performed by P. Gross. A little but later he issued an orchestral transcription of the composition. One of the critics wrote: "I do not know whether it is comfortable to dance to it, but it is a real pleasure to listen to it".
The company was quite recognized in the world. It testified by numerous prizes awarded to "Columbia" on the world exhibitions: Grand Prix in Paris 1900, Double Grand Prix in Saint-Louis 1904, Grand Prix on the commercial exhibition in Milan 1906. The company had one of the largest production facilities in the world and employed together in Europe and America approximately nine thousand workers – it was a lot for that time. One hundred "Columbia" departments represented its interests in biggest cities of all continents.
The well-known inventor of wireless telegraph Mr. Marconi was one of the company chief consultants. The best laboratories were at his disposal and he did not sit without the matter – he worked on "velvety" record that was destined to make a revolution in recordings.
A Ballyhoo advertising campaign preceded the novelty. Media reported with enthusiasm: "Marconi's records are indestructible. They remain intact even under hooves of horses and wheels of cars". The company store in Cleveland displayed a special machine in its window that was bending and unbending records thus emphasizing their flexibility and strength. Dropped records did not brake this looked like fantasy! But their main advantage was sound quality: soft, natural, and noise free. That is why they were called "Velvet Tone".
Marconi also made numerous improvements to Graphophones. Their facing in "modern" style that characterized by an elegance and refinement of forms. Almost all of them had special attachment: a dust-guard for protecting the gear and the internal mechanisms against accumulation of dust. Graphophone mechanisms were one-, two- and three-spring that allowed to play from two to ten big records on a single winding now.
A sound regulator became an additional novelty. Even during playback the sound could be made stronger or weaker by a special screw on a membrane that controlled the mica's tautness. In this way special sound effects could be achieved. All these caused an enormous buyers interest in overseas goods. "Made in America" inscription caused an reverential trembling of Russian average man even in those years!
The company successes in recording attracted popular at that time artists into its Petersburg studio. A well-known master of stage L.M.Sibiryakov began contributing to "Columbia" in 1906. Yet, competing with the joint-stock company "Gramophone" was not easy task, because the later one hold very strong positions in the Russian market. While fighting for the buyers Americans had to resort to various little tricks. They were the first who began to reissue the most favorite and successful records in new double-side format. By setting the price at two rubles the company gave to its customers opportunity "to spend a little extra sum, and have two records in place of one". Along with records of Russian composers, the company was selling in Russia records of leading foreign artists. Thus, for example, many music lovers could get acquainted with the famous baritone Taurino Parvisom, the exclusive recording rights of whom were held by "Columbia".
The novelties that entered Russian market were already tested on American public. For instance it turned out, that in Russia too there were numerous fans of so-called "descriptive" music. These musical canvases of illustrative kind were simpler and more comprehensible for the majority of listeners who were not adequately dedicated to the sacraments of harmony and melody. The hits of popularity belonged to such tunes like "Blacksmith In a Forest", "The Assault on Port Arthur" and especially "Earthquake in San Francisco" performed by military orchestras. The later record made especially strong impression, and even the most unprepared in musical sense listeners could surmise its content by hearing gallops of fire cars, some command words, howls of despair and, crowning it all, chords of a funeral march.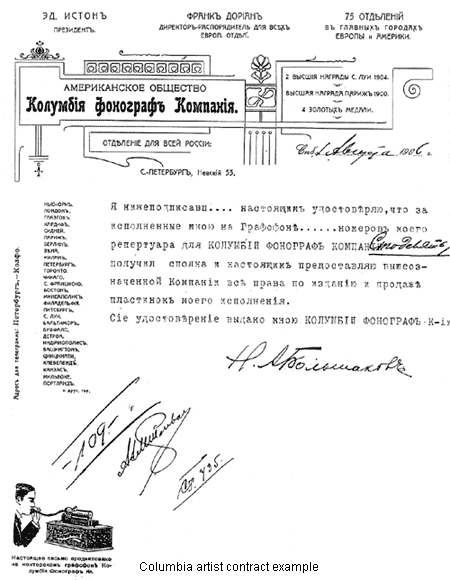 Trying to draw buyers attentions, the company began to supply catalogues and advertisings with brief summaries revealing records contents. Following, is how was described one of the records in the "Orchestral Records" chapter: "The Last Present-Day" – a recruit's song. A sad song of a recruit who is saying goodbye to his family has recently became very popular owing it to well-known opera singer Alexander Davidov who started to sing it on the concerts. Because of great demand on this tune we also made the orchestral recording. The note: This song performed by Mr. Nikiforov has No.35604 in our catalogues". The choice remained after the buyers…
The company's recordings of 1908 had an immediate success. However, it already became a good tradition and was taken as a matter of course. The Moscow opera actress Ms. Dobrovolskaya made a brilliant display of her coloratura technique. Her fine voice, even in the most risky for mechanical recording compositions, sounded confidently and easy, soothering ears by its sincerity. "Colombia" veterans Mr. Sibiryakov, Mr. Orlov, and Mr. Davidov had pleased their fans with recent records. The company sponsored a debut of an actor of Russian opera Mr. Veprinsky, though he was little known to the public yet. He had such a beautiful timbre that even great Shalyapin after listening to his voce gave him the highest grade.
The studio was visited by folk performers too. Among the first ones on "Colombia" records featured the "Bast Sandal Chorus" (singing with recitation) under direction of Mr. Nikiforov with their "masterpieces" like "Fie-You, Well-You" and "Hurdy-Murdy". Just like an "echo of the deep olden time" sounded the pipers from Graphophone records - exactly the same way as they sounded in Russian villages.
The reviews of the "Colombia" records remained quite caustic, but now their concern was not the quality of records, but the skills of performers. For instance, in one review was stated: "while listening to the Serenade of Don-Juan performed by Mr. Filipov it is hard to believe that the passionate Spaniard is singing. It is rather an elderly clerk, and, quite possible, with a paunch". Concerning tempo of another recording, namely, "The Sun Rises and Sets", the same critic found it was "too slow" and added "only those who were imprisoned can sing this song properly".
It seemed like the more varied and diverse repertoire offered by "Colombia" was becoming, the more secure should it feel on the Russian market.
But the company destiny was predetermined. In St.Petersburg there were factories like "Melodiephon", "Tonophone", and others that pirated by copying somebody else's records. Yes-yes, the piracy and intellectual property thefts already existed! They did not pass by the best "Colombia" records as well. Trying to protect itself from devastating and impudent competition, the company filed a petition to the State Duma chairman in which it asked for the legislative protection of its rights. But the Russian Empire was still far away from a lawful country... Courageously and firmly old and new competitors claimed the attention: "Syrena-Record" opened a plant in Warsaw, "Metropol-Record" plantbegan production in Aprelevka.
Russian businessmen were selling short flooding market with more and more gramophone records. Americans became unable to cope with young "sharks" of the gramophone world. Worldwide succeeding "Colombia" had wasted away in Russia, and the business came to the final decline soon. Director of the company Mr. Paulik put a final dot in this story by liquidating all its business in Petersburg in 1911…
…However, it is not the end of the story of "Colombia" business in Russia. Now "Colombia", as a part of SONY BMG Music Entertainment, is again in Russia. After almost hundred of years, everything has to be started from scratch. I'd like to believe that this time "Colombia" will be luckier since such actors like Mariah Carey, Bruce Springsteen, Michael Bolton and many others are now cooperating with the company…
Originally published in «Audio Producer», Nr.10, October 2000.
English translation by Yuri Bernikov.
---