on other languages Русский, Česky
On record labels of a gramophone company with a history of which we shall now get acquainted, in addition to all the others, there are names of Czech (and Russians - translator comment) performers, shone with their artistic talents in the first two decades of the twentieth century.
The story of Lyrophon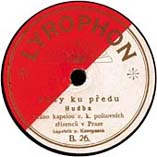 Credits for creation Lyrophon label go to brothers Adolf, Julius, Adalbert, and Sigmund Lieban. Before the story begins, all four were well-known opera singers, particularly stood out tenor Adolf Lieban, who was born in a small town near Brno. Already in 1900 four brothers began to record their singing art on phonograph cylinders that were produced on their recording factory Lieban. A. Lieban Co. under Kunstler Phonographen Walzen label. The factory also produced records of some well-known German opera singers and Jewish Cantors.
The Lyrophon GmbH company manufacturing gramophones and gramophone records made itself known at the Leipzig Spring Fair, held in March 1904. However, the fliers distributed on the Fair mentioned only gramophones and their accessories. Later, in January 1905, in the specialized press appeared an announcement of a new company, registered in the commercial register under the name of Lyrophon-Werke Adolf Lieban Co. Shortly thereafter appeared another announcement notifying potential buyers that the new company had available no less than 3000 new records in several languages.
The first success came to Lyrophon records in 1905 with release of 17cm (7") and 25cm (10") disks with recordings of the Berlin Royal Opera singers. In the same year also were made the first foreign records - the company managed to persuade for cooperation several French opera stars. The Lyrophon Company also made tremendously many recordings in Sweden in the years 1905-1907.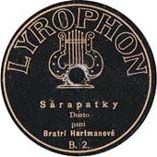 In 1906 the firm began pressing gramophone records having size of 27cm (10.5"), and little bit later even 35cm (14") - one side of such disk supposedly could accommodate the entire 7 minutes performance. However the greatest attractiveness and company's success during this period of time was the human size doll-puppet of the famous German soprano Hedwig Francillo-Kaufman that sang the aria of Olympia from the "The Tales of Hoffmann" opera. A gramophone record with this recording was hidden inside of the body of the doll that during singing even performed different movements.
In 1908 Lyrophon introduced the low-cost "Gloria" label that eventually outlived its parent company, remaining in the market until 30th as one of Carl Lindström concern labels. On this label the firm began to release popular records, leaving the parent label primarily for outstanding opera singers.
The Czech records on Lyrophon label (first black, then red colors) were issued in 1906-1909 for instance recordings of opera singers Elišky Liškové-Renard, František Štor and Kamily Ungrové or concert singer František Saloch. Plentifully presented on the records of this company recordings of folk singers and comics Aloise Tichého, František Waltner, František Ratolístek, Růžena Slavínské, Josef Sládok, František Purkrábok, Hanuše Škrdlík, or brothers František and Josef Hartmann. There is a couple of recordings of some Viola Quartet in Prague VIII. Orchestral recordings with gospel music presented on Lyrophon by "Brass Orchestra of Infantry Regiment № 102 (the Bandmaster Mr.Bobek, Brass Orchestra of Post Office Employees("under personal control of Bandmaster Mr. Konopásk). Two-sided 25cm (10") Lyrophon records were sold for 5.60 crowns, smaller ones for the half price. Salesmen also advertised that any available Lyrophon records including one-sided are on sale for 4...
Matrix numbers of one-sided and two-sided Lyrophon records with Czech actors recordings are marked by letters A or B, apparently from words Austria or Bohemia. The Italian records had I in matrix numbers and French F, while German records did not have any markings.
Throughout the entire period of relatively brief existence of Lyrophon label, its highest achievement - and historically the most important one - was issuing of several operatic arias performed by famous Portuguese baritone Francis d'Andrade. Six records (matrixes of these 12 sides had simple numbers d'A 1 - d'A 12) with voice of this celebrated singer currently are the most sought after collection rarity, because probably due to a limited number of copies, they were on sale for a very short time. Later on "Parlophon" and "Odeon" labels was reissued just one of those records.
Not everything is clear with these records as yet - according to one experts they were made in the years 1906-1907, while the others think it was 1909. So far also remains a mystery why the famous singer never recorded any more in any gramophone company, and at the same time agreed to a record in such a small and relatively insignificant company, which at that time was Lyrophon.
They also did not find a reasonable explanation of the fact that two-sided gramophone records of Francis d'Andradewere sold for the half of price, of, for example, one-sided records of Enrico Caruso.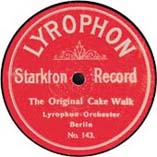 In the period before the First World War Lyrophon company had a good position in the market, which in many ways was obliged to company Albert Grunbaum, which printed the records and nickel-plated metal parts of gramophones. Service of Lyrophon recording equipment and its exploitation was performed by another major German company Max Thomas. These two firms merged in 1911, and in two years joined the Lindström concern. At that time, the concern already owned all Lyrophon shares, which in 1914 merged with gramophone company "Dacapo".
During the First World War, when the production of gramophone records in Germany virtually ceased, a number of German labels switched to production of components for weapons. Neither Lyrophon nor "Dacapo" labels participated in weapon parts production, thereby causing Lindström concern significant losses that undoubtedly contributed to their future elimination.
Lyrophon label disappeared from the market in 1918, and the final elimination of its accounts occurred in 1935.
Gabriel Goessel (GÖSSEL)
This article was originally published in Týdeník rozhlas, 29/2001, "FONOGRAM" column and is available here by author's courtesy.
Czech-English translation by Yuri Bernikov
---