on other languages –усский
Almost detective story of УNew Imperial RecordФ
by Yuri Bernikov
In April of 1912 there appeared on the Russian Gramophone market records of a previously unknown label УNew Imperial RecordФ. The labels were of a very unusual design: the upper half was scarlet with a picture of a lyre and the black inscription УNew Imperial RecordФ; the lower half was green. After close inspection one could readily discern that in reality they were УSyrena Grand RecordФ records with scarlet stickers concealing the upper halves of the original labels. In Saint-Petersburg these records first appeared in the musical shop of well-known trader Melnikov on Sadovaya Street, and were sold for the same prices as the originals. But why was it necessary to hide the original Syrena labels? УGammofonny MirФ magazine [2] was thrilled by this mystery and decided to carry out its own journalist's investigation, the results of which were published in issue No.9 of May, 1 1912. Unfortunately, I do not have the original article, but according to materials published in other publications [3][4][5] one can draw the following conclusions:
It turned out that those records were bought out УSyrena RecordФ rejects;
УSyrena RecordФ by all means distanced themselves from this transaction. For instance, the CompanyТs chief representative in Russia, Mr. Rozmyslov, announced that he did not sell to Mr. Melnikov the rejected records. Later, УSyrena RecordФ management even published the following warning: УThe records with УNew Imperial RecordФ label have nothing to do with registered УSyrena Grand RecordФ Trading Mark. We are requesting customers do not buy those records.Ф;
It remained unclear how Mr. Melnikov had gotten the rejected records.
ItТs understandable that Mr. Melnikov was accused of УdishonestyФ, and those УNew Imperial RecordФ discs were called nothing else but УpiraticalФ ones. Was it really so? Almost 100 years has passed since then, and to unravel the truth that additionally was so thoroughly concealed at the time is nearly impossible task. However, with the help of observation, logic and common sense we can try to reconstruct more or less a truthful picture, and even possibly rehabilitate the good name of trader Melnikov.
LetТs start with accusations of УpiracyФ. It is a known fact that the basis of business of all Уpiratical companiesФ was manufacturing and selling illegal copies of original records bought in retail. They were doing it against the will and interests of producing companies causing them both: material and moral losses as well as unfair competition Ц pirates did not have to pay fees to artists. All these characteristics are not totally applicable to УNew Imperial RecordФ discs. УNew Imperial RecordФ used to sell exclusively original УSyrenaФ records that were legally bought in wholesale from the producing company. There were neither material losses nor unfair competition for УSyrenaФ because the records were sold for the same price as Syrenas.
In order to fool potential customers some piratical companies used so-called УmimicryФ Ц their label designs were very similar to the originals. Most of all УsufferedФ were Zonophon records with the green label. They were imitated by УLuxophoneФ, УZolophonФ and even УInternational ParlophonФ labels and this is not complete list. Another example is УFonotipiaФ Ц УMelodiephonФ pair. The later one was even called УThe Russian FonotipiaФ. The flashy scarlet УNew Imperial RecordФ sticker is the vivid evidence of exactly the opposite intention Ц to be distinct from the original.
If one discounts the fact that УNew Imperial RecordФ labels were affixed post-factum, the business of the two companies very well falls into the common scheme when company A places orders to company B for printing of a batch of records bearing company A labels (i.e. today's common practice of УoutsourcingФ). Nobody would even think to call company A a УpiraticalФ one in this case.
By the way, УSyrenaФ never tried to bring УNew Imperial RecordФ to court, it just wanted to distance itself from the latter.
The second accusation is selling УfaultyФ records for УregularФ price. From the first glance it may look like a major one, but letТs try to understand the nature of the rejects. Thanks to efforts of Russian-Records.com Participants, there have been collected a number of УNew Imperial RecordФ records, sufficient to draw an interesting conclusion: upon close inspection one can easily see that each record has at least one label with typographical error or mistake. Following are a few examples:
Printed: У√ренадирскагоФ,
Should be: У√ренадерскагоФ
Printed: У»мпэратораФ,
Should be: У»мператораФ
Messed up with quotes: the opening quote is single,
the closing quote is double.
Printed: УЋё —≈ЌЅ"–√ЏФ,
Should be: УЋё —≈ћЅ"–√ЏФ.
Extra space: УMARI A MARIФ,
Should be: УMARIA MARIФ.
The following is probably the most vivid example - as they say: find three differences:
Such examples are not just numerous, but each УNew Imperial RecordФ record ever seen by the Author of this article has some kind of typographical error. One may conclude that these mistakes are the only reason for the rejections! By the way, in order for the whole record to be rejected, it is only sufficient to have a mistake on one side.
The indirect proof of long-term УfriendshipФ between УNew Imperial RecordФ and УSyrena RecordФ is the fact that there are at least 3 varieties of type-faces of УNew Imperial RecordФ label name.
It means that there were at least 3 separate orders for stickers, possibly for three different batches of rejected Syrenas.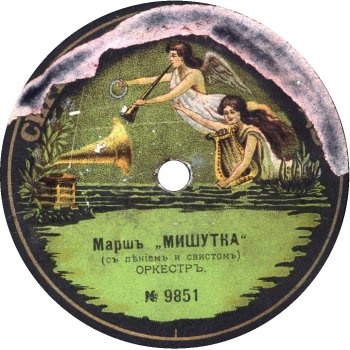 There are also records found with a removed УSyrena RecordФ title and with nothing affixed in its stead. It is possible that the sticker originally was there, but someone removed it later because the remaining trace is slightly pinkЕ
The Author imagines the following picture: the printing plant that printed paper labels for УSyrena RecordФ hired a new linotypist that happened to be negligent of his duties as well as illiterate in the Russian language. As a result, there were printed a large number of paper labels with different kinds of typos and spelling errors that was instantly used in production. Since the factory was located in Warsaw, the natural language of most of the workers was Polish, so faulty paper labels were not immediately discovered, and by the time they were discovered, a huge number of records were already pressed. What to do with them? It was a pity to recycle them Ц the quality of records was perfect! Also, they had to pay salaries to press operators Ц it was not their fault! However, it was not possible to sell them too Ц that would forever spoil the good УSyrena RecordФ reputation to respectable customers. That is why they found a simple and reliable solution Ц to sell the records via a third party Company with mandatory affixing of its own sticker. This way the Уesprit de corpsФ was saved and income from sales was received. In reality it was not a secret that УNew Imperial RecordФ records were in fact Syrenas, but the latter was not at risk at all since no one could complain on the quality of records, and the majority of customers did not care about misspellings!
Frankly speaking, I would not be surprised if УSyrenaФ itself created the УNew Imperial RecordФ label and then secretly affixed the stickers regardless of multiple public renounces! In the opinion of many Russian researchers, УSyrena RecordФ started as piratical company, so such УtricksФ were not really a novelty for it.
Was it really so? We probably will never knowЕ
October, 2008
Warsaw Courier
Grammofonny Mir No. 9 of May, 1 1912
A.Zheleznyj. Our Friend Ц a Record.
Tomasz Lerski. Syrena RecordЦPoland's first recording company.
A.Tikhonov. The Unknown ЂCentennial Warї. Part 3. Piracy and theft - the two sides of the same record.
A.Tikhonov. The Record of ЂSyrenaї
Author thanks Jerzy Adamski (Poland), Jurek Gogacz (Poland), Dmitry Golovko (Mezhdurechensk), Alexey Kochanov (Kazan), Piotr Kaczor (Poland), Earl Okin (England), Otto Striebel (Germany), Alexander Scheglakov (Moscow) for label scans, Steven R. Wright for editing.
---