on other languages Русский
The History of Elesdisc
by PETER NAHON
Jewish records began to be issued in France as early as 1908 (if not earlier), but there were not important quantities of these records produced until 1933 when such labels as Salabert and Idéal got interested in this business. All their activities of course were stopped by breakout of the World War II.
It could look strange, but during the first decade after the end of the war, the new companies started to flourish and produce a lot of Jewish records, apparently for the community of Holocaust survivors. Here is the list of companies that produced such records: Elesdisc, Le Disque Folklorique Yiddish and Saturne [addenda from the author: Le Chant du Monde, Pathé, Hatikvah, Ducretet-Thompson], the first two labels are specialized on Jewish repertoire.
Le Disque Folklorique Yiddish had a short history, lasting only 2 years or so, between 1949 and 1950. It was run by some Serge Eisenstein, the nephew of the Soviet film director bearing the same name.
We decided to research into the history of Elesdisc. After investigating in diverse places such as Bibliothèque Medem (the largest Yiddish language library in Europe), Bibliothèque nationale de France, Bibliothèque des Archives de Paris and "in the field", we reconstructed the history of this business at the 34 rue des Rosiers in the center of Paris former Jewry which started as a bookshop in the late 19th century.
Wolf Speiser, born in Odessa, arrived in Paris circa 1895 and founded a library at the 34 rue des Rosiers, in the district in Paris that the newcomers of Jewish origin occupied since the 1880's. Soon it became the center of the Jewish cultural life in Paris. From 1910 he published calendars and an almanac, called "Yddisch-franzoischer Kalendar" (Jewish-french calendar). He was also known for a book for learning French using yiddish grammar, known as "Méthode pour apprendre le français au moyen du jargon dit ydisch"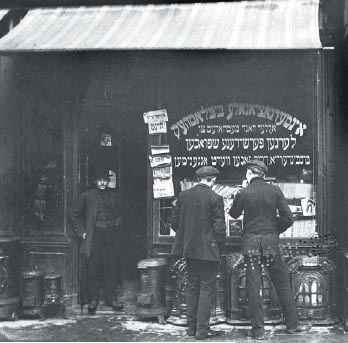 The shop circa 1925
Wolf Speiser was involved in bad business and had to close the shop in 1929. According to Jean-Pierre Azéma (Vivre et survivre dans le Marais: au cœur de Paris du Moyen Âge à nos jours, Editions le Manuscrit, 2005), he died the 6 February 1941, and one of his sons restarted the business but died a few years later. Maybe this son is Léon Speiser..
[Addenda,January 2009] We have learnt that Wolf Speiser's wife Régine continued to run the shop after their divorce in 1930, with her son Léon Speiser. This son is the one who will recover the store after the war. During this time, Wolf Speiser opened a phonograph repair workshop somewhere else in Paris with his second wife.
Léon Speiser, after the war, renewed the store by creating his own record company soon after 1948, whose name being Elesdisc, after his initials. We found neither any catalog of this company, nor any advertisement of it. A few elements permit us to conclude that the records were not distributed somewhere else than in his store in Paris. This is because each Elesdisc record that we found has Léon Speiser advertising stickers pasted on it.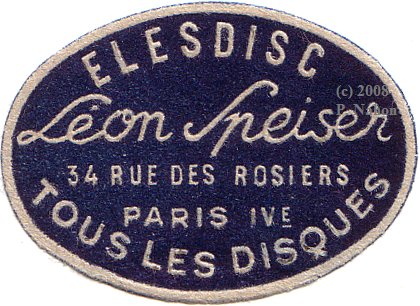 Léon Speiser advertising sticker
In despite of this it seems his records were known among the world, since they were re-issued by Melodisc, Stinson and Savoy. The Elesdisc records were manufactured by Philips, as attest the inscription on the labels:
[Addenda, January 2009]: Elesdisc issued Russian records, all recorded in France between 1949 and 1952 excepted the one numbered "LS-11" which consists in Soviet recordings.
The Russian records have a red label, whereas the Jewish ones have a blue label
Near-complete list of Russian recordings on Elesdisc
| | | | |
| --- | --- | --- | --- |
| Catalog number | Artist | Title | Matrix |
| LS-11A | Leonid Utesov | Partizanskaja boroda | ? |
| LS-11B | Piatnitsky chorus | Piesna pro Katjuschu | ? |
| LS-22A | Sarah Gorby | Kossa | 0541-1-ACP |
| LS-22B | Sarah Gorby | Riazanotchka | 0542-1-ACP |
| LS-23A | Sarah Gorby | Tiomnaia Notch | 0543-1-ACP |
| LS-23B | Sarah Gorby | Boudte Zdorovje | 0544-1-ACP |
| LS-24A | Sarah Gorby | Kostia Moriak | ? |
| LS-24B | Sarah Gorby | Iehal Ia iz Berlina | ? |
| LS-27A | Sarah Gorby | Tchornia Chale | ? |
| LS-27B | Sarah Gorby | Katioucha | ? |
| LS-37A | Sarah Gorby | Liubimi Gorod | ? |
| LS-37B | Sarah Gorby | Vdol Derevnii | ? |
| LS-38A | Sarah Gorby | Tri Tankista | 0743-1-ACP |
| LS-38B | Sarah Gorby | Vesiolii Veter | 0743-2-ACP |
| LS-39A | Sarah Gorby | Kto Ievo Znaiet | 0745-1-ACP |
| LS-39B | Sarah Gorby | Ech, Dorogii | 0746-2-ACP |
| LS-40A | Sarah Gorby | Sinii platotchek | ? |
| LS-40B | Sarah Gorby | Ino chotzi | ? |
| LS-52A | Georges Streha | Svietit miesatz (dance) | ? |
| LS-52B | Georges Streha | Polianka (dance) | ? |
| LS-60A | Vladimir Slastcheff | Boublitchki | ? |
| LS-60B | Vladimir Slastcheff | Ogagnok | ? |
| LS-61A | Vladimir Slastcheff | Black eyes | 1131-1-ACP |
| LS-61B | Vladimir Slastcheff | Tschastushki | 1129-1-ACP |
| LS-62A | Vladimir Slastcheff | Kalinka | ? |
| LS-62B | Vladimir Slastcheff | Jablotcheka | ? |
It is partially based on Mrs. Lehman's (née Speiser) testimony, who is Wolf Speiser's daughter with his second wife.
We sincerely thank:
Mrs Lehman née Speiser, stepsister of Léon Speiser
Alexandre Litwak, archivist at the Fondation du Judaïsme Français,
Bernard Liebermann, bookseller, who knew Léon Speiser
T. Stern for discographical informations
Sharon Bar Kochva, Natalia Krynick and everyone at the Bibliothèque Medem who permited me to research into their archives.
and everyone else who helped us in my research.
---